Dec. 26: Br. Stephen Greenlee, Obl.SB, delivered a refurbished John Deere mini-tractor to the BFSL campus. This wonderful gift includes a snow-blower, and a mowing attachment, and a utility trailer, and is sure to be a great blessing in both summer and winter! While here with his large trailer, Br. Stephen also loaded up and moved our Buick across the half-frozen creek, so that we can again use it for trips to town. It requires 4-wheel drive to cross the large accumulations of ice on the banks of the creek, which form up to 6-inch lips!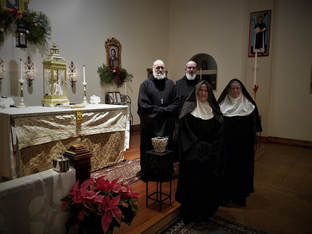 The Monks and Nuns of Our Lady and Saint Laurence wish all our Friends, Family, Oblates, and Brothers and sisters in Christ a Blessed, Merry, and Peaceful Christmas and a healthy, prosperous, and joyous New Year!

Today the Christ is born; todayhath a Savior appeared: today on earth Angels are singing, Archangels rejoicing: today the righteous exult and say, Glory to God in the highest, alleluia!
Antiphon on the Magnificat
---
Dec. 24-25: Prior Theodore and Novice Lazarus served as Deacon and Subdeacon, respectively, at St. Augustine's Parish, Denver, during the Solemn High Mass at Midnight for the Nativity of Our Lord. After staying in Denver overnight, they returned to the Monastery where a Procession to the Creche and a Pre-sanctified Mass was served in the afternoon for the monastics and guests who were not able to attend Midnight Mass, and then a festive Christmas Dinner was served, followed by Candlelight Vespers.
Dec. 13-16: Prior Theodore returned to Puyallup, WA for the funeral of his father, Robert, in the Tahoma National Cemetery.
Nov.10: Mother Olga slipped and fell on ice and broke an ankle in three places. On Friday, Nov. 17, she had surgery at St. Thomas More Hospital to install hardware in the ankle. She is recuperating nicely, but will be laid-up for about six weeks and unable to join the community for Divine Service in the Chapel, due to the stairs. We ask your prayers for a complete recovery and for the therapists and personal care assistants who are coming out regularly to assist her.
Nov. 7-21: Prior Theodore was in Puyallup, WA, assisting his family as they gave around-the-clock palliative care to his father, Robert S. Phillips. Robert reposed on the afternoon of the 21st, twenty days after his 85th birthday. Prior Theodore thanks all who offered their prayers and support during this difficult and sad time.