Sept. 8 - 10: Orthodox Women's Retreat, sponsored by St. Mark's Church, Denver. Khouria Susan Wallace will lead reflections based on the book,

Becoming a Healing Presence

, by Dr. Albert Rossi. The cost is $95.00 for the weekend; Attendance on Saturday only, with no overnight stay, is $35.00.

This retreat is open to all Orthodox women: For more information or to make a reservation, please contact:

Carol McCabe

.
August 24 - Sept. 7: Prior Theodore will be attending the blessing of the new iconography by Br. Lazarus at St. Michael's Church, Whittier. He will then be spending time with his parents in Washington State before returning to the Monastery.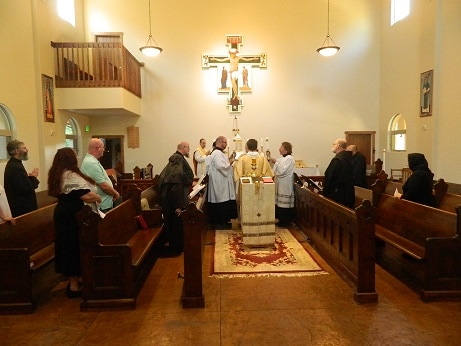 August 11- 13: Annual St. Laurence Pilgrimage: Open to all at no charge! The annual event to celebrate the Feast of St. Laurence, Patron of the Benedictine Fellowship of Saint Laurence. Accommodations are available on a
first-reserved
, first-served basis; RV's, Campers, and Tents are also welcome for this event.
---
July 30: Prior Theodore will be doing clergy supply at St. Augustine's Church, Denver, for the Very Rev. John Mangels who is attending the Archdiocesan Convention in Miami, FL.
July 27 - 29: St. Spyridon Greek Orthodox Church, Loveland, CO, Women's Sewing Retreat. A group of women joined together at the St. Laurence Center to sew vestments for Orthodox mission clergy in Africa.
July 20 - 23: His Grace Bishop JOHN visited the Monastery and on the 23rd, journied with the community to St. Augustine's, Denver, for Solemn High Mass before flying back to Massachusetts. His Eminence Metropolitan JOSEPH had to postpone his visit, but hopes to come in August.
July 8 - 12: The Annual Benedictine Oblates' Retreat was held at St. Laurence Center. This time of sharing in the life and work of the monastic community, oblate fellowship, and presentations on oblate life and Benedictine spirituality brought together 9 Oblates of our Monastery and 1 of our Associated Monastics. On July 11 we celebrated the Solemnity of St. Benedict with a Solemn High Mass and a Sermon by Father Prior.
June 23 - 25: Annual Plein-air Painting Retreat at St. Laurence Center.

Nine local artists took advantage of this opportunity to capture the beauty of our 600-acre campus in 2D art.
Ms. Anne Emmons, of St. Augustine Parish, Denver, gave a presentation on the process and techniques of icon painting.
Mark and Mah-rya Proper, and Chris and Jenn Anderson-Tarver donated the food and provided the meal preparation for the retreat. Our sincere thanks to them for their generous assistance!


June 23 - July 25: Brother Lazarus was home in the Monastery before continuing his work at St. Michael's, Whittier. Phase 1 of the interior iconography is nearing completion and His Eminence Metropolitan JOSEPH is scheduled to bless the East and West Walls during his visitation there in late August.