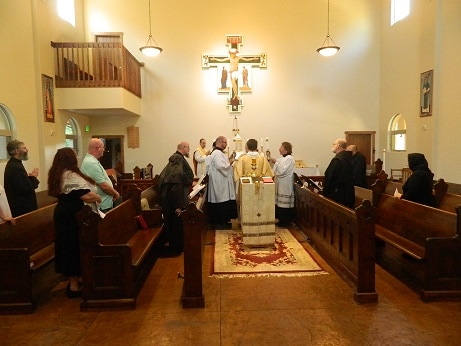 August 11- 13: Annual St. Laurence Pilgrimage: Open to all at no charge! The annual event to celebrate the Feast of St. Laurence, Patron of the Benedictine Fellowship of Saint Laurence. Accommodations are available on a
first-reserved
, first-served basis; RV's, Campers, and Tents are also welcome for this event. Stay tuned for more information, soon!
---
July 8 - 12: Annual Benedictine Oblates' Retreat at St. Laurence Center. A time to share in the life and work of the monastic community, share fellowship, and participate in presentations on oblate life and Benedictine spirituality. Free for Oblates of our Monastery; all others are asked to pay a modest $80 fee for the event. To register, contact the
Director of Oblates
.
June 23 - 25

: Annual Plein-air Painting Retreat at St. Laurence Center.

An opportunity for capturing the beauty of our 600-acre campus in 2D art. Open to all interested artists.

​Registration is now closed.

For more information, see our

Facilities & Booking

Page. Registrations must be submitted by mail and include the non-refundable, $25.00 registration fee.
June 23 - July 25: Brother Lazarus will be spending time at home in the Monastery before continuing his work at St. Michael's, Whittier. Phase 1 of the interior iconography is nearing completion and His Eminence Metropolitan JOSEPH is scheduled to bless the East and West Walls during his visitation there in late August.

June 13: Following extended discussion and a written request to Father Prior, Dame Sophia has begun a trial period as an anchoress (a form of hermit life) in St. Audrey's Anchorhold. She will no longer be leaving St. Audrey's and the small, outdoor area surrounding it, except to attend Mass of the Presanctified in the Oratory, to do laundry, or to go to Doctor appointments. For more information on what it means to be an anchoress, please follow this link:
Anchorites
. Although less strict than Medievil anchoresses, Mother will be following a special Rule based on the Medieval
Ancrene Wisse
.
June 6- 10: Private Roman Catholic Retreat at St. Laurence Center.
June 3-5: Prior Theodore spoke for a pre-Pentecost Quiet Day at St. Benedict Orthodox Church, Wichita Falls, TX. On Pentecost Sunday, he delivered the Sermon for the Sung Mass there. After Mass, with the help of Fr. Peter Kavanaugh, Father loaded up the Suburban with the things Stavrophore Nun Olga (Krum) was bringing with her to the Monastery, in preparation for driving back to Colorado on Monday the 5th.
May 16: Stavrophore Nun Olga (Krum), formerly of St. Barbara's Monastery, Santa Paula, CA (OCA) was formally transferred by His Eminence Archbishop Benjamin to the Monastery of Our Lady and Saint Laurence, under obedience to Father Prior Theodore. We welcome Mother, and ask your prayers for her as she adjusts to her new home in the Rocky Mountains!

April 25 - May 5: Prior Theodore drove to northern New York State and Ontario, Canada, to collect a significant selection of books from the Library, and of ecclesiastical items from the Sacristy of Christ the Savior Monastery (ROCOR), at which both he and Dame Sophia previously spent time. We ask your prayers for Abbot Dom James, the sole remaining monk of this historic monastic community, who is in declining health and will be moving soon to new accommodations. He has graciously offered us the opportunity to retrieve much of what has been in storage since Christminster left Canada.