Mountain Monk Studios:
Created With Prayer in the Solitude of the Colorado Rockies
Mountain Monk Studios is the overall name for the Monasteries' handicraft and art productions. Below, you will find a selection of the products available, after which there is a contact form that may be used for placing orders.

NOTE: At present, we are not able to accept credit card payments over the internet. We hope that this will change soon, in order to make ordering more convenient. After receiving your order, we will send it with an invoice that includes the cost of shipping and handling. We ask that you pay the invoice by check or money order promptly!
Unique, Hand-made Prayer Ropes (komboskini/chotki)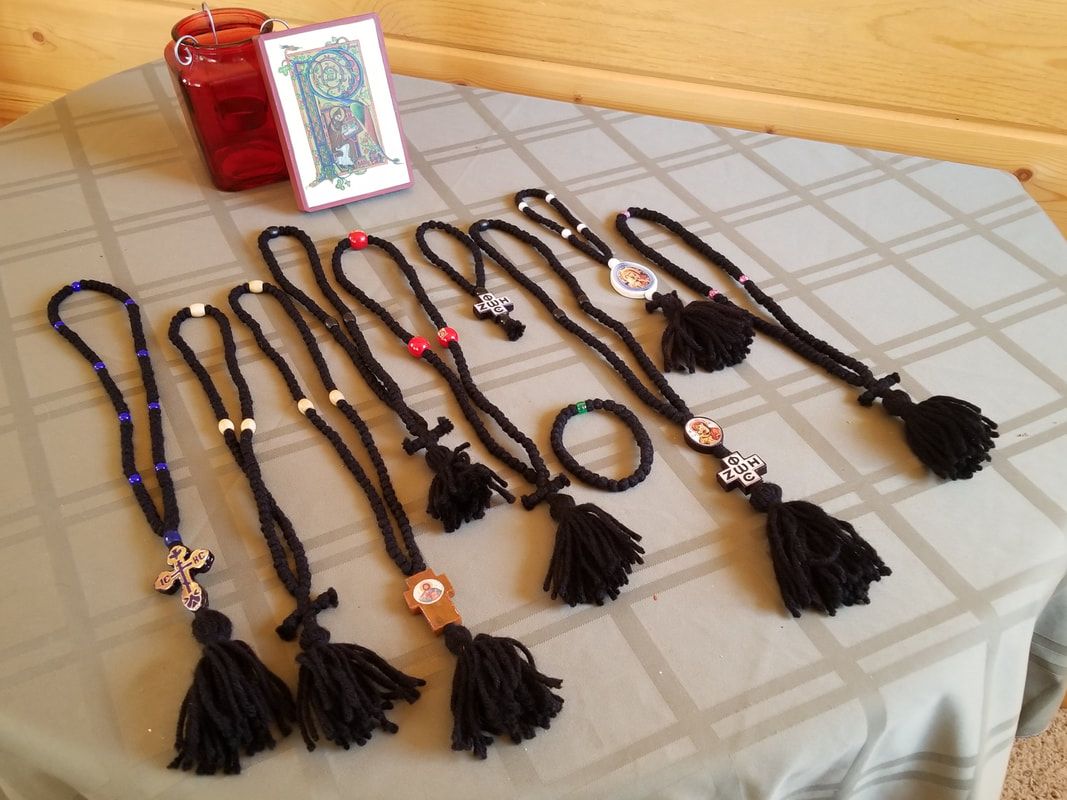 Tied in silence and prayer by a solitary monk affiliated with our Monasteries, these prayer ropes feature feature crosses or icons specially decoupaged using public domain artwork.
Prices:
100-knot $18.00
50-knot $12.00
33-knot $10.00
Please note that $3.00 shipping and handling will be added to each mail order.

To Order, choose from the photograph (count from left and describe, please), and send an email using the Orders and Information Button found below.
---
Mountain Monk Greeting and Note Cards
The cards are designed, cut, and hand-folded by the monastics. They make incorporate public domain works of iconography, art, or photography, or of original photographs taken by the monastics. We have both blank note cards and cards with messages (and sometimes Scriptures or liturgical texts) suitable for a growing number of occasions. At present, we are featuring three different cards for Holy Pascha.

The cards are approximately 4 3/16 x 5 3/8 inches in size, which uses less paper than larger cards (think green!). They are printed on white or colored card stock (on most, a border surrounds the outside image) and each comes with an envelope.

Price List:

Individual card: $1.99; 10% discount for orders of 5 or more, identical or assorted
Set of 5 cards: $8.99; 10% discount for orders of 3 or more packs.


Pascha


13th Century Russian Icon of the Resurrection. Message: Christ is risen from the dead, trampling down death by death, and upon those in the tombs, bestowing life!


18th Century Russian Icon of the Myrrh-bearing Women. Message: Blessed Pascha: Christ is Risen! Also includes quote from the Paschal Canon, Ode Three on inside left.


Easter Procession, by Illarion Michajlowitsch Prjanischnikow, 1893. Message: Happy Easter!


Sympathy


Icon of Christ's Burial, St Andrei Rublev, 15th Century. Message: May faith in Christ's victory over death console you in your present sorrow and renew your hope of life in his eternal kingdom. Includes quote from Byzantine Matins of Good Friday on inside left.


Original Photo by Fr Theodore. Inside message: To everything there is a season... (Ecclesiastes 3:1-2, 4)


Wedding


Wedding of St Joseph & the Virgin, Stained Glass, French, 1894. Message: By God's blessing, may you enjoy happiness, health, and holiness in your life together! Includes quote from Nuptial Mass on inside left.


Baptism


Baptism of Christ, Fra Angelico, c. 1441. Message: May this Baptism be a time of joy and blessing for you and all who join in its celebration!


Travel/Thinking of You

Road to Emmaus, Ducio di Buonisegna, c. 1311. Message: Go with God. Luke 24:28-32 on the inside left.


Name's Day


All Saints, Russian Icon. Message: May the prayers of your holy Patron and of all the Saints be with you and bring the Lord's blessings upon you this day and always!


Blank Note Cards - Single


St Nicholas' Skete, Valaam Monastery, Russia. Original Photograph taken from passenger boat.


Virgin of Guadalupe, by the hand of the late Schema-monk Nathanael. Inside left contains prayer, "Under thy protection..."


Blank Note Cards - Sets (5)


Pen & ink drawings of 5 ancient churches, from the Encyclopedia Britannica, 1910.


---

Orders & Information


You may use the button below to submit questions or orders. Fr Theodore will respond to you as quickly and helpfully as possible. Thank you for your interest and willingness to support Orthodox monastic life in the Rocky Mountains!


---
Inspiriational Computer Calligraphy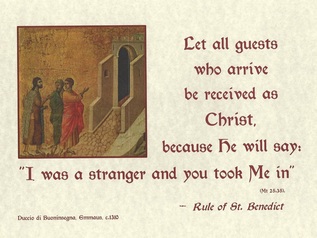 In the monastic scriptorium, using resources available in the public domain, original artwork, or original photography and working with the vast array of fonts available for computer use, Father Theodore designs, produces, and frames inspirational Scriptures, prayers, and sayings in a variety of sizes, for wall hanging or placement on desks or bookshelves.

You may request specific themes or writings; you may also provide or request specific art or photography, so long as you own the material or it is clearly in the public domain. Additionally, we have several prayers, Scriptures, or sayings in stock. For more information and for pricing, please use the Order & Information button at the bottom of the page, after the selection of cards.

---