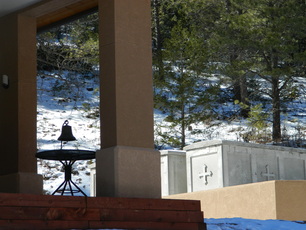 It is our pleasure to welcome both individuals and groups to our St Laurence Center for times of learning and spiritual renewal.

We are open year-round and are currently able to host approximately 30 people in overnight accommodations, depending on the configuration of a group. We also welcome guests to bring their campers, trailers, or RV's and stay in them on the campus.

Our 600 acre property is a wonderful location for religious services, weddings, funerals (including burial in our hillside cemetery), receptions, mercy meals, and other events of a spiritual nature.
---
PRINTABLE DIRECTIONS to the campus may be obtained by clicking
HERE
.
Facilities
There are two public buildings on our campus:
St Herman's Lodge is a two-story log cabin, originally built as a hunting lodge. The first floor, which is surrounded on three sides by a spacious veranda, contains the "Large" Kitchen and Refectory, a cozy sitting area, a half-bath, and a guest room. The upper floor has guest rooms with twin or double beds and a dormitory with bunks for eight people, two bathrooms, and a large balcony.


The Monastery has three levels. On the main level are the Oratory (Chapel) of St Laurence, which can accommodate 60 people for services or retreat talks, and which includes a handicapped accessible bathroom, an icon and book store, and a sacristy; this level is surrounded by a covered cloister (walkway) suitable for processions. Accessed through the sacristy, an upper "loft" level provides a bright library, conference & common room (which can also serve as a bedroom) with a spacious balcony overlooking the eastern meadow and mountains, and a smaller, internal balcony extending into the Church. The lower level contains monastic cells, guest rooms fitted with twin, double, or bunk beds, the "Small" Kitchen and Refectory, an office/scriptorium, and laundry, storage, and mechanical facilities.
The campus is bounded by scenic public lands, which are accessible for hiking. Tallahassee Creek, which runs through the length of the property, flows westward through a scenic gorge until, some 8 miles on, it empties into the Arkansas River. There is plentiful wildlife including deer, elk, wild turkeys, various species of birds, bobcats, foxes, and bears.
Booking Retreats or Events
Individual Retreats

When there are no large groups reserving the entire campus, we welcome individuals or families to spend from one day to two weeks with us as guests of the resident monastics.

While there is some flexibility regarding the schedule, in general individual guests are expected to attend scheduled worship services and common meals together with the monastics.

In keeping with Orthodox monastic tradition, there is no set fee for staying as a guest in a monastery. Those who are with us for more than two days are normally expected to assist with one or another aspect of the day to day work of maintaining and developing the campus and community. Additionally, donations to help cover the cost of meals and utilities are very much welcomed; alternately, there are other "in kind" donations that are very helpful to us. Feel free to consult with the Guest Master for ideas.

To schedule a private retreat, please contact the Guest Master, Father Theodore, using the button below. Please be aware that email is the fastest and most efficient way for us to communicate. We have limited cell phone access and can call you - however, reaching us in person by phone is quite difficult. However, you may leave a message at the following number (a cell phone), which is checked daily: 719-371-6345.



Group Retreats or Events

We welcome your Christian church, group, or organization to hold retreats, conferences, or events at our facilities. We are a great location for young adult groups, prayer groups, parish councils, older youth, weddings, religious services, receptions, training sessions, and more.

Indoor, overnight accommodations are limited to approximately 30 persons (depending on the configuration of your group). It is possible, in good weather, to accommodate outdoor sleeping for those who air mattresses and sleeping bags. Single-day events may be attended by larger numbers. The chapel is certified for accommodating 60 people.

Groups have the option of providing their own food and using the main kitchen for preparation, or having the Monastics provide and prepare meals, which may be planned in consultation with you. Outdoor grills are available. Additionally, we can provide bedding and linens, or those who prefer may bring sleeping bags or their own linens to use on the bunks or other beds.

Information on the rates for group retreats is available by clicking the button below. We offer a 10% discount to organizations booking more than one event in a given calendar year.

Thank you for considering St Laurence Retreat Center - we look forward to serving you soon!